Compound butter: It's like butter, only better. And before you let the word butter keep you from reading further, remember that fat is a necessary part of our diet. Besides being necessary, fat adds to the appealing taste, texture and appearance of food. And, fats carry flavor. Granted, butter is predominantly a saturated fat so it should be used in moderation. You'll find that a compound butter packs so much flavor you'll only need to use a little bit to get yummy results.
What is compound butter? It may sound complicated, but it is just butter with things mixed in. It is one of those easy, prepare-ahead ingredients that add a ton of flavor and visual appeal that will elevate your meal to a new level. Whether it is simply the butter served with bread at your next dinner party or the butter you put on top of your Sunday morning pancakes, compound butter makes it special.
While I have compound butter on hand throughout the cold weather months to toss with roasted vegetables, I find myself using it more and more during the summer on grilled meats or fish. When grilling, you don't get the by-product of a pan with carmelization to start off a pan sauce, so a nice compound butter makes an easy, flavorful 'sauce' for a grilling when there is nothing else to work with.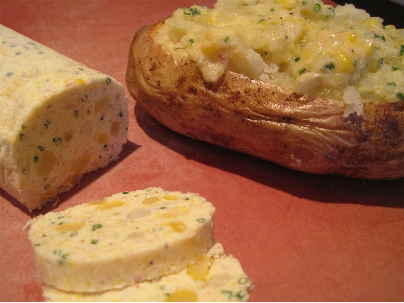 1) Allow unsalted butter to soften to room temperature, just soft enough to be able to easily mix in the additional ingredients.
2) Prepare your other ingredients or "add-ins". Some things to consider about your ingredients: Make sure any cooked ingredients--roasted garlic, camrelized onions, etc…-- are completely cooled before mixing in or your butter may separate. Make sure any fresh herbs have been thoroughly washed and dried before mixing in, or you'll find you are mixing oil and water.
3) Mix the ingredients into the softened butter thoroughly. Some recipes suggest putting the butter and the ingredients in a food processor to puree them. I prefer to mix them manually because the "puree" process may impart an off color to an herbed butter.
4) Place the butter mixture on a piece of waxed paper, shape it into a log, roll it up, secure the ends and freeze it.
When you want to use it, just slice off a piece of the frozen log like the picture above and use it as you like. It should keep in the freezer for about one month.
Your imagination is the only limit on add-ins for compound butter. The uses are endless. Savory compound butter can be spread on fresh bread or used to make garlic bread. You can serve it on top of a nice grilled steak, lamb chop, or piece of fish. Toss it with vegetables, pasta, and anything else you might imagine.
The one I always have on hand is a savory combination of finely chopped shallots, thyme, parsley, salt and pepper as it seems to compliment most things. Experiment to find you own go-to combination. Consider dill, lemon and lemon zest for fish; shallots, corn and chives on a baked potato (pictured above); gorgonzola cheese, and herbs for a nice grilled steak; roasted garlic or caramelized onions for meats; ancho or serrano chilis and lime for corn on the cob or corn bread.
And, let's not forget the sweet combinations for waffles, pancakes or toast. Consider adding honey, chopped dried fruits and spices like cinnamon, nutmeg or cloves.
Give compound butter a try. It's fun, easy to make and add flair to any meal. Enjoy!