Getting back to what it's like to cook on the road for a rock star, the big question you might be asking is "how do you get all the ingredients for each meal each night when you're in a different city?" It's pretty easy actually.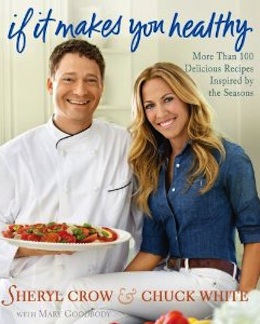 With the help of a runner from the Wang Center, Chuck had already located the local Whole Foods and shopped for the menu he'd designed for the night. The meal was delicious. We made a chopped salad with vegetables and clams, baked cod over quinoa pasta topped with tomato butter and broccolini. For desert we made a blueberry cobbler. As Carla and I served, the whole band and Ms. Crow were incredibly nice and appreciative. Dinner service was over in about an hour then we cleaned up and packed up.
Chuck was already thinking about what to make the next night. As it turned out, someone in the tour crew knew someone that could score some lobsters – fitting since the next stop was Maine. Chuck headed back to the bus to start working out a menu and shopping lists and then to get some rest so he'd be ready to do it all again the next day.
The Maine show was at the Portland Civic Center; a bigger, modern venue in comparison to the Wang Center. There we were again backstage, but this time we were in a big open space. Our space was enclosed with curtains and there was a separation between the "kitchen" and the "dining room" by another wall of curtains. By the time we arrived, the kitchen was already stocked and set up, smaller than the day before, but workable. The drawback was that our space in Portland did not have a water source.
There was a full kitchen in use by the venue about 50 yards away that we were able to use for water. We were ready to get cooking. The second day moved a lot more quickly since we'd all worked together already and we quickly fell into a groove. We put out terrific food. Carla collaborated on the Lobster Roll recipe to give it some local authenticity, and I crafted an upside-down apple cake for desert. The band recognized us and greeted us warmly, like we were part of the crew. That was pretty cool I must say. It was another great day and a small part of me wanted to come back for the next day at Foxwoods in CT. But two days was all my schedule would allow.
Back to what to compare it to… there really isn't a fair comparison. The restaurant comparison really doesn't fit because your little restaurant gets dismantled every night and has to be set up again every morning in a different place in a different space. I suppose it is more like catering, but with the consistency of party size and always serving the same guests. Basically, you need to be really flexible, resourceful and well organized. Chuck was all that as well as being a very talented chef. While it was a great experience—I will admit to being a little star struck—I wouldn't want to go on the road. With that said, I do look forward to helping him again the next time they are in the area.
In case you're wondering, I didn't exactly get to meet Ms. Crow. She was really polite and friendly, but has mastered the art of being that way without making eye contact for long enough to invite conversation. Unfortunately we couldn't get a picture with her either. Totally understandable. I cannot blame her at all; imagine how many people want to know her? Add that to a grueling tour schedule and it must be exhausting. She really handles it with grace and ease.
On top of a really unique cooking experience I did get great seats to the Wang Center performance as well as a back stage pass. It was a great show, but in the end I was too tired to schmooze back stage, so I headed home to get some rest before the Portland gig.
Chuck and Sheryl's latest collaboration is a cookbook of seasonal, healthy recipes entitled If It Makes You Healthy due out March 2011.
In fact, they will be on The Today Show on March 28th and if you watch you will probably see Chuck cook. I don't think Boston is a stop on their book tour, but I'm hoping for an autographed copy by mail.