As I sit down to write this we are just on the brink of Spring in New England. Within the next couple of months, local farmers markets will be bursting with choices beyond root cellar vegetables and hearty winter greens. While time flies, July can't get here soon enough to conquer that craving to bite into a fresh, juicy tomato.
In the meantime I've survived the off season by roasting tomatoes. Roasting carmelizes the natural sugars and intensifies the flavor of the fresh, yet unremarkable tomatoes we can get our hands on in the winter months. You can roast any size tomato and achieve this result. As with most things, there are many ways to do this. The method I use depends on what I plan to do with the finished roasted tomatoes.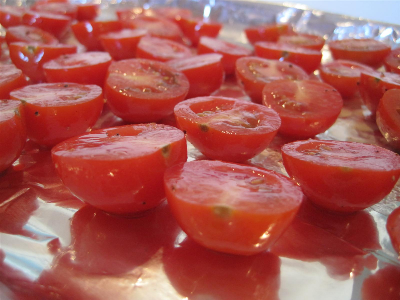 Low and slow works best for smaller tomatoes like grape, cherry or plum. To start, halve the tomatoes lengthwise and toss with a small amount of olive oil—just enough to make them glisten. When tossing, you can include herbs and a little salt and pepper with the olive oil, but be sure to use small amounts because these little gems will be so flavorful they won't need much help. Arrange them cut side up on a foil or parchment lined baking sheet. Hint: a lined baking sheet will make cleanup easier.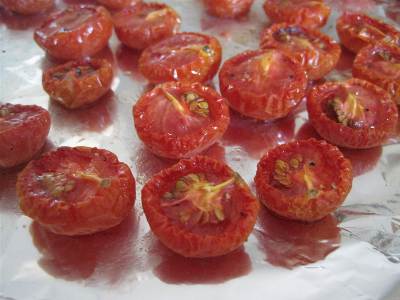 Bake the cut tomatoes at 225° F for 2-3 hours or until they are dry with just a little juice left inside. Once they are done, you can use them just like you would fresh tomatoes on sandwiches or in salads. You can also replace fresh tomatoes in a recipe – think relishes to add more intense flavor to toppings for chicken or fish.
High and quick works best for larger tomatoes and will also add smoky flavor to the finished product. I use this method when I'm making a tomato base for a soup or sauce. To make a good amount of sauce or soup you'll need about a dozen medium sized tomatoes. Halve the tomatoes lengthwise and take out the core from each half. Toss them in a mixture of olive oil, 1 tablespoon tomato paste and a little salt and pepper. At this stage I will also add 1-2 onions cut into large wedges and about 6 cloves of garlic and toss those in the olive oil mixture.
Arrange the tomatoes cut side up along with the onions and garlic on a wire rack over a baking sheet that has been lined with foil or parchment for easier cleanup and roast them at 475°F for 45-55 minutes. The finished product won't be as dry as the smaller tomatoes roasted low and slow, but that's good since you want the juice for your sauce or soup.
Here are two ways to put them to a tasty use: for a sauce puree the tomatoes, onions and garlic then add a little balsamic vinegar to taste and you have a nice roasted tomato sauce for pasta. For a soup, add them to black beans, seasoned with some chili powder and cumin. Put in enough vegetable broth (about 5 cups) to create a good amount of soup and simmer for about 30 minutes to let the flavors come together. Puree the entire pot and add a little hot sauce; sprinkle with chopped cilantro and you have a yummy roasted tomato and black bean soup.
What kind of things do you do with tomatoes in the winter? Let me know and hang in there until tomato season!