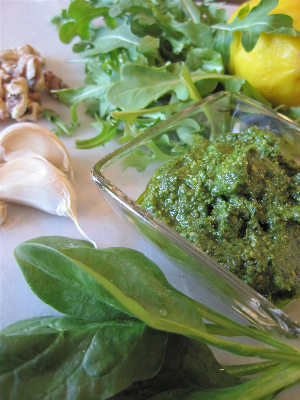 For those of you whose arteries started to harden at the thought of compound butter, one of my previous posts, I offer another flavorful alternative. What I'm referring to are sauces you make by grinding together some combination of herbs, nuts, cheese and olive oil. The beauty of these sauces is that the base is olive oil; a good, heart healthy monounsaturated fat.
These sauces can be called Pesto. Pesto is a conjugation of the Italian word Pestare which means to step on or to tread on and by extension to crush or to grind. The traditional version of Pesto is from Liguria in Northern Italy, specifically Genoa or Pesto alla Genovese. The Genoan version of pesto is made with fresh basil, pine nuts, garlic, extra virgin olive oil and parmesan cheese ground in mortar and pestle style. Traditionally it is a sauce for pasta.
While it's certainly true you can buy a good pesto in the store these days, have you ever read the ingredients? Why not make your own? It's not complicated and in my opinion it is so much better to have control over the ingredients. You could go old school and make it with a mortar and pestle, or you can make things easy on yourself and use a food processor or blender. Pesto will keep for up to 2 weeks in the refrigerator. What's great is if you don't plan to use it within that time, you can simply freeze it. A really easy way to freeze portioned amounts is to fill ice cube trays with the pesto and freeze them. Once the pesto is frozen pop out the cubes and put them in a zippered freezer bag. When you need a serving of pesto, pull out a cube. You can do the same thing with tomato paste.
There are many riffs on what pesto can contain and even more on how it can be used so let your imagination go wild. First, we all know how expensive pine nuts can be; nearly $30 per pound, yikes! And, many people have nut allergies. So skip the nuts or substitute seeds like sunflower or pumpkin. The main herb doesn't have to be basil. Parsley, mint, or cilantro will also work nicely. While those Genoan's started a good thing, don't be afraid to add a little something hot to spice things up like crushed red pepper or jalapeno. And, let's not get stuck in a pasta rut. Consider using pesto as a replacement for mayonnaise in a pasta salad or a chicken salad. Try using pesto as a condiment on a sandwich.
Here are five different combinations you can try with your favorite extra virgin olive oil or experiment and come up with some of your own:
Parsley, garlic and toasted walnuts plus a little crushed red pepper spread on grilled beef and pineapple kebabs.
Mint (2 parts), Basil (1 part), garlic and toasted walnuts as an accompaniment to lamb.
Spinach (1 part), Arugula (1 part), garlic, toasted walnuts, plus the juice of half a lemon over pasta. (Don't be tempted to use baby spinach or baby arugula here. The flavor will be fuller with the full grown varieties.)
Equal parts cilantro and parsley, garlic, jalapeno and some lime zest mixed into black beans and rice.
Equal parts basil and mint, half part cilantro with roasted, salted peanuts, plus garlic, ginger and lemon zest for an Asian flavored pesto to enjoy with grilled shrimp.
A general rule of thumb in making pesto is to use 1/4 cup olive oil to 1 cup packed herbs. I use a food processor and will normally process the tougher ingredients like garlic and nuts with half of the oil intended in the receipe. Once I've created a smooth paste of those ingredients, I add the herbs and the rest of the oil. What are some of the ways you like to enjoy pesto?