Carmelization is the browning of sugar.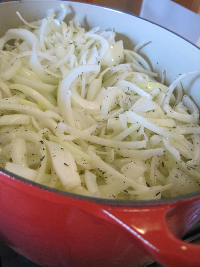 It is a widely used cooking term in reference to browning the natural sugars in foods through the application of heat during the cooking process. Carmelization adds flavor and in the case of onions, practically transforms them. During the carmelization process the onions become sweet tasting and soft enough to melt in your mouth. To do it well, carmelizing onions happens slowly; very slowly using the method below.
You will need at least 8 onions and should plan on spending 3-4 hours. When you get good at the process, you can work up to a 10 lb bag. The onions cook down quite a bit, become soft and clump together so we're not worried about perfect slices, rings or dice. The quickest and easiest slice is a julienne cut. Simply cut off the top and root end of the onion, or "top and tail" the onion. Slice it down the center from pole to pole. Peel off the skin. Place it flat side down on a cutting board and cut it into thin strips. While you don't need to worry if they aren't all the same exact thickness, they should be close. This is key, don't make them any thinner than one quarter of an inch or you won't recognize them when they are all done.
Place 3 to 4 tablespoons of olive oil in a heavy bottom pot. I like to use my Le Crueset. Place the onion slices in the pot, stir up to distribute the oil evenly and set them over low heat, covered. At this point, I sometimes add some dried thyme, dried marjoram, finely chopped fresh rosemary and a generous pinch of kosher salt.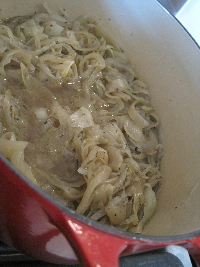 Let the onions sweat in the pot and make a lot of juice, stirring occasionally. You'll know there done when there is enough liquid accumulated that it looks like a pot full of onions in broth. This may take 2 hours. Once all that good onion juice accumulates, remove the lid and turn up the heat to medium and cook off the juice.
Stir the onions occasionally until half of the liquid is gone. Then begin to stir more frequently. It's a fine balance here. Adjust the heat if necessary and stir to be sure they don't burn, but remember, you do want them to carmelize so let them sit a bit. They will begin to take on a rich brown color and the smell will be fantastic. This may take another hour. They are done when all the onions have a rich brown color and a melt in your mouth texture. True, you may have a lot of onions, but they freeze really well so you don't have to put all that time in again for a while!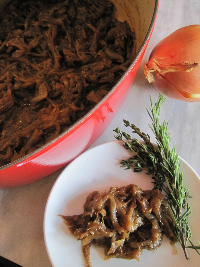 To use them, just use your imagination. Here are a few ways I use them: They are delicious with grilled meats or on top of a burger. They make a nice pizza topping, especially with gorgonzola cheese. You can add them to cooked orzo along with sautéed spinach to make a tasty side dish. Or, one of my favorite uses is to turn them into a gravy. For a recent Thanksgiving I learned to make the gravy recipe below in my quest to provide a (mostly) vegan meal so one of our guests (a very special friend) wouldn't feel like she was eating alone. It was a big hit with our non-vegan guest as well. Here's the recipe:
Carmelized Onion Gravy
Adapted from Moosewood Restaurant Celebrates cookbook
(VEGAN)
Yields 3 cups
2 TBS vegetable oil
6 c. thinly sliced onions
½ tsp salt
¼ tsp dried thyme or ¾ tsp fresh
½ tsp minced fresh rosemary
½ tsp dried marjoram or 1 ½ tsp fresh
¼ tsp freshly grated nutmeg
3 TBS soy sauce
2 c. vegetable broth
¼ c. dry sherry or Marsala
2 TBS cornstarch
¼ tsp ground black pepper or to taste
Carmelize the onions with salt and spices, except nutmeg. Add nutmeg, soy sauce, 1 ¾ c. broth and the sherry/marsala to the onions. Bring to a simmer. Dissolve the cornstarch into the remaining broth and add to the mixture in a steady stream. Stir constantly and bring to a boil to thicken. Turn off heat.
What's your favorite way to use carmelized onions?